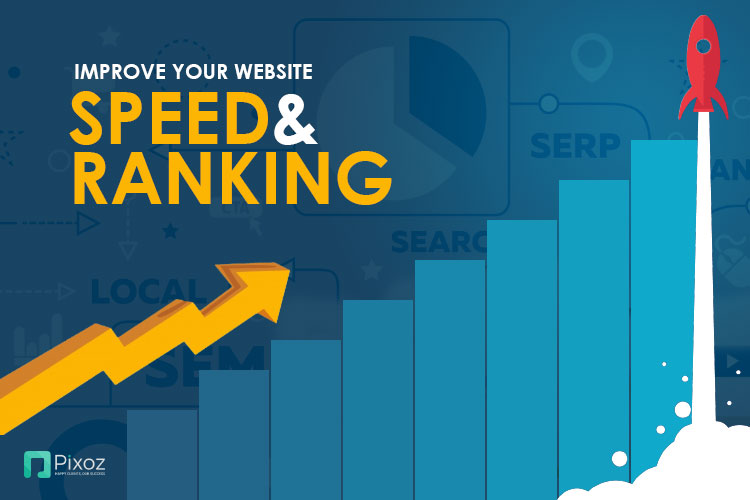 How Speed Up Your Website Can Help You Improve Your Site Ranking in Google
With a well-optimized Website, page speed not only boosts the user experience, but as well as improve a number of your page views, and give you a big relief in your SEO efforts.
Having an outdated version with slow speed will affect your website's performance such as:
7% loss in conversions
16% decrease in customer satisfaction
11% fewer page views
In fact, 47% of visitors wait for two or less seconds website to load and 40% of users just close the page which takes more than three or more seconds of time. This proves the importance of responsive WordPress themes for ranking in search results as well as to engage visitors and make sales.
So today in this guide we will discuss on how you can improve and optimize the speed of your website to increase traffic but also to rank higher on search results.
Page Speed Importance for websites
Repeatedly open a web page or re-visiting a website updates browsers with a cache of the site, because of that you have seen that whenever re-visiting a website loads pretty faster. But sadly this will not be the same with a new user.
I knew that's not enough to consider you?
A well-known brand "Amazon". Once organize A/B tests in which they late the speed of pages with gap of 100 milliseconds. As a result with even small delays resulted in "substantial and costly" decreases in revenue.
And
Also, the Google once experienced a 20% drop in traffic because of an extra .5 seconds in load time.
Now coming to the point, both Goggle & Amazon are popular and reputed websites globally. So if people are not ready to wait extra second for those two, why will they wait for your website to load.
Therefore it's essential to use Page Speed Testing Tools to analyze web page loads time.
Tools To Check Website Speed
Google Page Speed Insight
Google's tool to analyze the content of a web page and give recommendations to improve it.
Pingdom Tools
Examine the website's performance, uptime and grades it as per on the overall functionality.
What is a good load time?
Before optimizing the speed of your website, it will be good to have the calculation about acceptable page speed and load time of the website.
From Google, it is recommended to have a load time of three seconds.  For in-depth calculation we have a study conducted by Geoff Kenyon in which he compares the website speed against the rest of the web:
if your site loads in 5 seconds, it is faster than approximately 25% of the web
if your site loads in 2.9 seconds, it is faster than approximately 50% of the web
if your site loads in 1.7 seconds, it is faster than approximately 75% of the web
if your site loads in 0.8 seconds, it is faster than approximately 94% of the web
Moving on….
What are the Causes for Slow Page Load?
Below are the most common causes for slow load time:
Page Size
Having lots of unoptimized large pictures for the website. So always choose the best source for photos.
Web Hosting
A web server with poor configuration can make a web page to load slower.
Unclean Code
Unnecessary elements such as empty new lines, inline stylings, excessive white spaces, and unnecessary comments can slow the website's page load time.
Bad Plugins
Poor coded set of plugins, can affect overall performance and cause slow down your website.
External scripts
Having unnecessary or bunch of external scripts like font loaders, flashes, ads etc. can also slow down your website time.
Now, let's have a look on
How to Speed up your Website
Improve your Hosting Plan
One of the simplest options to speed up a website; just look at the type of server.
There are three types of hosting:
In most scenarios, beginner site owner chooses the shared hosting as it's the cheap one since you get shared server resources with many other users. But, rapidly grow in usage and loaded with more content. So, as a result, the websites get slower. To overcome this just upgrades your hosting plan such as VPS or dedicated option where you don't have to share resources with anyone else.
Also, to run your website perfectly with no glitches and serve visitors the best user experience we recommend choosing from these leading hosting companies:
Reduce HTTP Requests
Elements such as images, scripts, flash, and stylesheets can slow the website speed. An HTTP request is performed each time to have these elements on the web browser. So more the number of requests the more time page will take to get a load.
Also, to see how many HTTP requests a page made use PageSpeed Insights and follow Google's suggestions. Hence drop or minimize the HTTP requests by using most needed elements.
Optimize Images
Images must have the component of every website. But, with the un-optimized collection of images can slow your website speed. Optimize images before uploading is the perfect solution and make images fast to load:
Change the resolution: reduce the quality of pictures to have lite pics.
Compress the images: increasing the efficiency of image data storage.
Crop the images:  cut the unnecessary part to make the photos small in size.
We recommended using JPEG & PNG image formats.
Reduce External Scripts
As we have mentioned, web pages load faster with less requests sends to the server. External scripts such as Facebook "like my page" boxes, external commenting systems (like Disqus), and external fonts (i.e. Google Fonts) make HTTP requests each time to loads a new page and may slow down the website.
Thus, removing third-party scripts can boost your website speed. Using Pingdom, you can check external scripts which are taking more time to load and requests to the server.
Database Optimization
Optimize the database of the website by cleaning the useless data to reduce the size of the database and therefore your website will be load fast. Unnecessary data like post revisions, trash, spam and so on that is no longer to use to free storage.
Below are few extra tips to have an optimized database:
Delete spam comments or trackbacks.
Store your media files such as PDF downloads externally on Amazon S3
For WP users: make use of WP-Optimize plug-in for the better clean database.
For WP users: remove older installations of WordPress on your server.
Content Delivery Network (CDN)
A CDN stores all files of the site. CDN network servers will store static data of website like CSS & JavaScript, images, videos, PDFs etc, and send the all files to overseas viewers from the CDN to make sure speedy loading of your website for foreigner visitors.
Some common CDNs include:
Page Cache
With the help of Page cache, website's pages stores all the data such as HTML documents, videos, and images etc, which let users to access the website more quickly. Because database doesn't have to regain every file each time on HTTP request.
The thing to keep in mind here is that it mostly works for re-visiting users only. Users that accessing website first-time would not have the website cached, as we mentioned that web pages need to load files one time before storing them.
At last, we can say, don't allow the visitors to wait for your web pages to load up, just have a try of these 7 tacts to speed up your website.