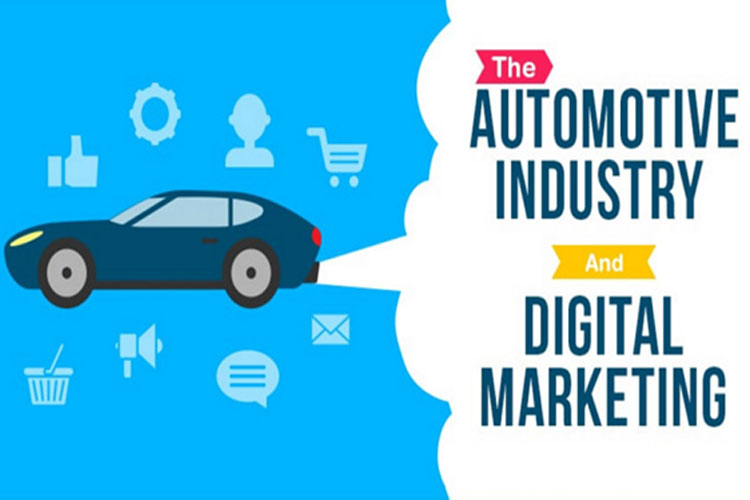 Digital Marketing Trends Impacting the Automotive Industries for Business Growth
Digital marketing is a dynamic industry and changing the pace very quickly. Due to digital marketing, there are several trends in marketing campaign got affected? Because of these trends digital marketing, it's important to understand what your consumers want and how to handle your digital marketing campaign.
Digital Marketers in automation found that the keys to progress might be fuelled by expanding the selection of highly effective digital marketing strategies for business development.
There are a few challenges and trends faced by these automotive digital marketers. Some of them are listed down below:
The three Most Common Challenges a Marketer's Faces are:
Tying TV, online, display, and paid search media exposure to actual automotive sales
Distinguishing the prospects as they moved from cell phone to merchant
Measuring marketing effectiveness by channel
Founder of PCG Companies "Brian Pasch" found in a recent study, that the percentage of consumers who convert via a lead form, phone call, chat, or text message is very low (somewhere around 10% or less) compared to the total number of visits per month in Google Analytics.
"If over 90% of the website traffic doesn't identify themselves explicitly, how can marketing effectiveness be measured?" asked Brian.
Apart from these challenges, there are few trends which an automotive marketer can follow for a successful business growth.
Some of These Digital Marketing Trends are as Follow:
1) Social Media
Social media is the most important activity for any business to get more hits and likes. If you haven't created a business page on social media websites like Facebook, Twitter or LinkedIn, then think again. It only takes less than a second for someone to like a page on Facebook, Twitter or LinkedIn and it's a great way to reach out to your customers with special deals and new products. Facebook has even added page insights and Twitter has added analytics features to the user account, so you can monitor your page traffic and increase it with hashtag categories and check-ins.
2) Ranking with RankBrain
RankBrain is Google's new algorithm based on the machine-learning system. It was introduced in 2015, this algorithm uses artificial intelligence to improve overall search quality through better understanding user queries.
This algorithm looks for relevancy and overall site performance to ensure that your website content remains up-to-date.
3) Social Video Sharing
Creating Videos about your product is a key marketing trend in 2018 and it continues to improve on social media platforms like YouTube and Facebook etc.YouTube is one of the most influential tools for automobile shoppers. According to a recent study, it was found that 69 percent of people who used YouTube while buying an automobile like cars, bikes etc, were influenced by it – more than newspapers, or magazines – making this trend key to automotive marketing in 2018.
So to keep up with the video trends on YouTube, you must be aware of the YouTube SEO to make your video visible in search engine. If your videos rank better on YouTube or Search engine you eventually get more views for your product to make it visible to as many numbers of people as possible.
4) Mobile User Ranking
Based on the stats, nearly half (46%) of potential automotive buyers use their smartphones during the purchasing process, with 71% of digital interactions taking place on the platform. Neglecting your brand's mobile presence might result in limiting how visible your brand is which eventually results in low business growth.
To deal with such a situation, you have to make sure that your website is fully responsive and should be compatible with every mobile device.
5) Load Time
This is another factor that should be considered into account while creating a website. According to Google algorithms, Google only prioritizes that website which is fast in speed. No one like a website that takes ages to load. Right…?
So while creating a website, you need to make sure that your website page load speed should be fast. If it's not fast, then make it. There is no such substitute for that. Sorry for using such harsh words, but this is true.
To improve and check the page load speed of your website you can take the help of "Google's Page Speed Insights" tool help. This tool will let you know your current page load speed and give you suggestion on, how to improve your websites page load speed.
6) Content and Consistency
As most of the marketers know, if the content is the king, then consistency is the queen. So to promote your product on an advanced level, you have to be consistency in posting an article and spreading awareness about your product online.
To increase brand awareness, let people know about your product and niche by regular consistency to convert your visitors into sales. By consistency, you can easily achieve your goal for maximum conversion, which automatically results in better business growth.
7) Remarketing your Brand and Products
While researching for an automotive purchase, customers consider many brands initially, before whittling them down to few ahead of making a decision. With dynamic remarketing techniques, we can easily track down the customer interests before they make any decisions.
For maximizing the success rate, we have to keep the remarketing point in mind and keep on promoting our brand and products to make it appear for the user to easily find it and make their decision.
8) Managing Online Reputation
Online reputation is another key factor taken into account while making a purchase online. According to stats, 84% of people trust online reviews as much as a personal recommendation. So managing your brand reputation is very important on google. If you are having bad reviews about your products then you might be limiting your success.
Good online reputation can help generate more leads and convert visitors into sales. Monitor the conversation about your brand online, and respond to any issues customers may have by creating a social account to protect your brand value.
Remember, negative sentiment can only be counter by promoting positive content about your brand.
Conclusion:
Automotive marketers are using the digital platform to engage with their existing customers to achieve important milestones. Data shared online spreads in the digital marketing community very fast in comparison to the old fashioned way of marketing. For making your company, brand or product successful, digital marketing process should be kept in mind.
These are few tips and tricks to improve your brand value in the automotive industry with the help of digital marketing for a successful business growth.