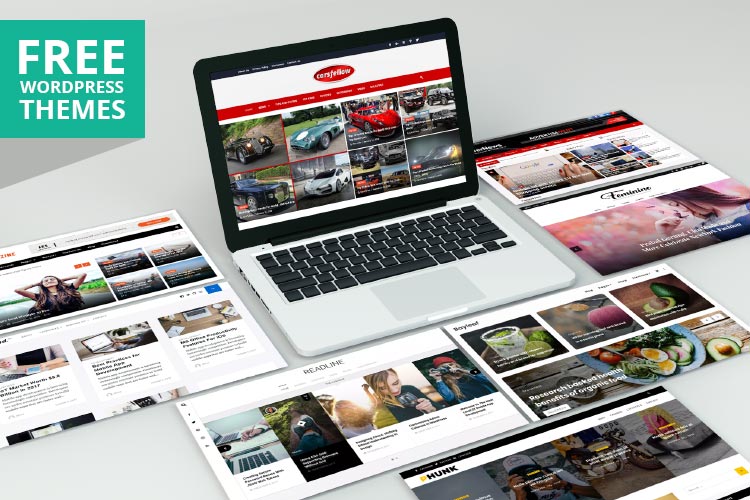 Best Free WordPress Themes For Blogs
Starting a website may sound easy, but it requires a lot of work and options so that the best thing comes out. For this purpose, we use different themes that set the mood of our website accordingly.
Best Free WordPress Themes
Moreover, with the help of these themes, we rank our website in ratings in search engines. Today we are looking at the best free WordPress themes as free is something we always need when we are working on something big.
CoverNews: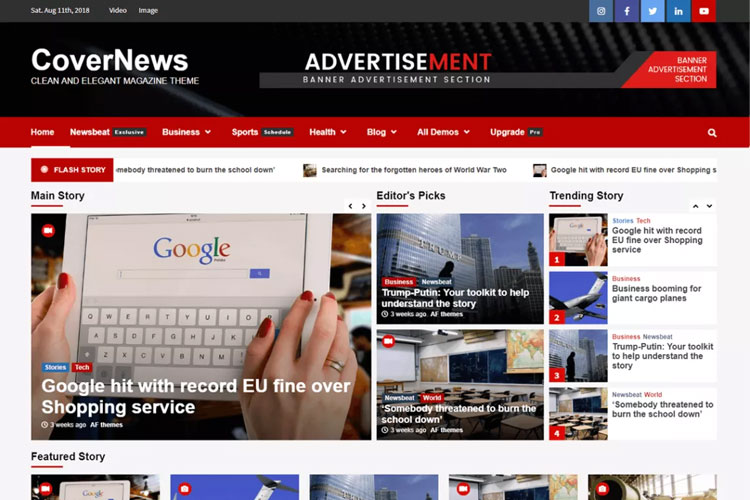 It is a very clean and neat theme for those who wish for blog post and magazines. It has many features like a personal Just read, news journals; fashion magazines; travel magazines and much more which can help you build an amazing looking website. Also, with the help of this theme, you can have help which can guide your website in different search engines.


Cream Magazine: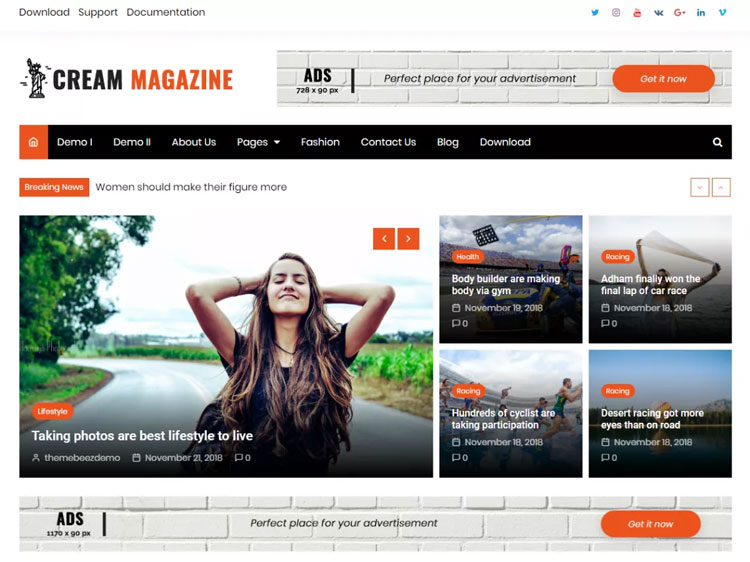 This theme of WordPress is all about magazines and news posts and blogs which must be kept simple and entertaining at the same time. The features like speed, quick loading and SEO make this theme more responsive. It being user-friendly, you can write any story, post, blog about your personal experience on any topic, or even news easily while adding pictures is never a problem.


Blossom Feminine: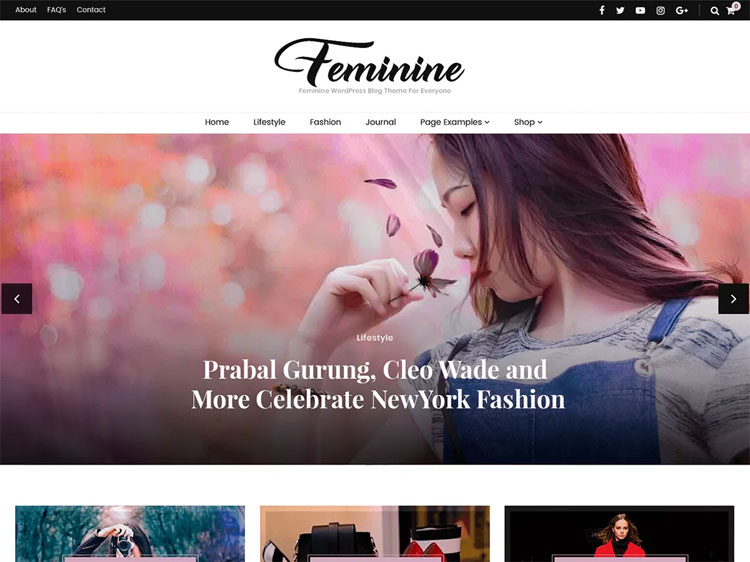 The promising feminine and chic free WordPress theme which is all about fashion and colorful website that you always want. Whether it is about fashion tips, wedding plans, travel, food, comfort or anything else, this theme is ideal for you. It has an amazing feature which allows it to be mobile friendly as well. Also, the Instagram section enables you to grow your followers to the maximum. Also, the newsletter section is kept visibly simple so that you get maximum emails and stay in touch with your visitors.


Justread: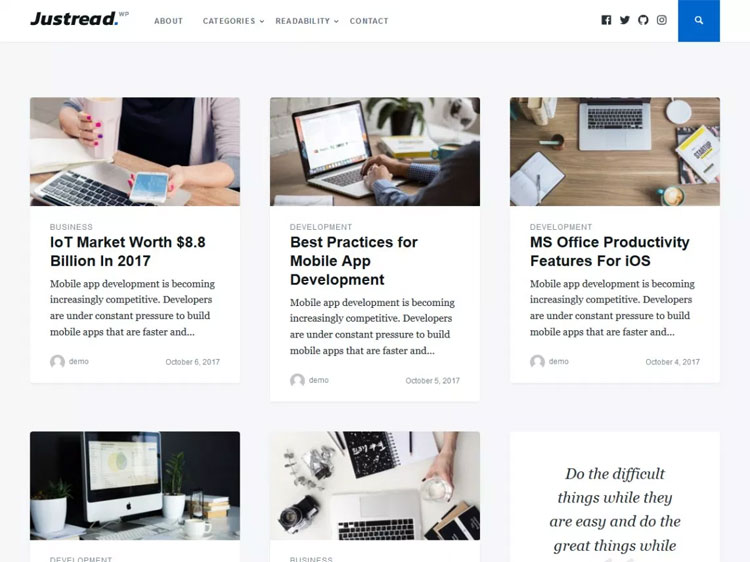 Just read is a free theme of WordPress which is simple and attractive and whose main purpose is reading experiences. The layout is kept simple and the presence of various features like font changeability and day and night mode along with a single layout format enhances your experience of reading. The loading is pretty fast which makes your reading more comfortable.


Bayleaf: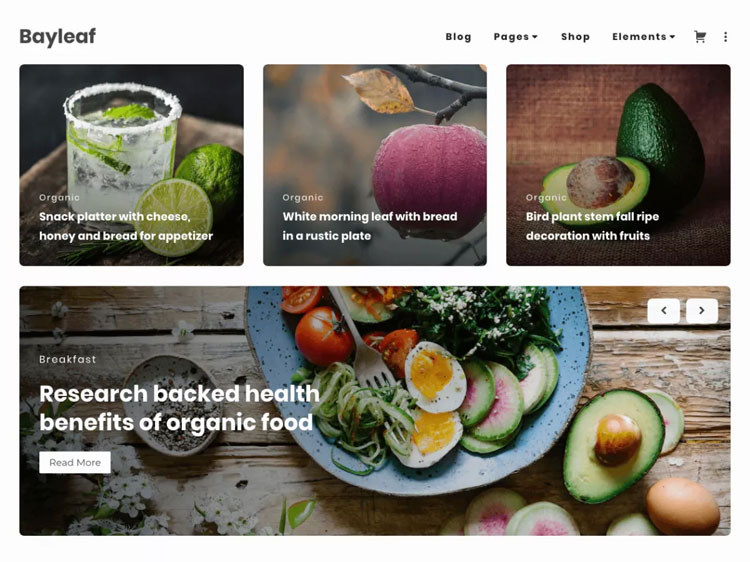 This theme of WordPress is designed for the food and cooking blog where you can easily talk about different food recipes and travel food. The designing of the page is done in a very light tone as to add to the touch of bright pictures. Also, the home layout page is a single layout in a width style offering you more options for the minimal style of color schemes.


Minimal Lite: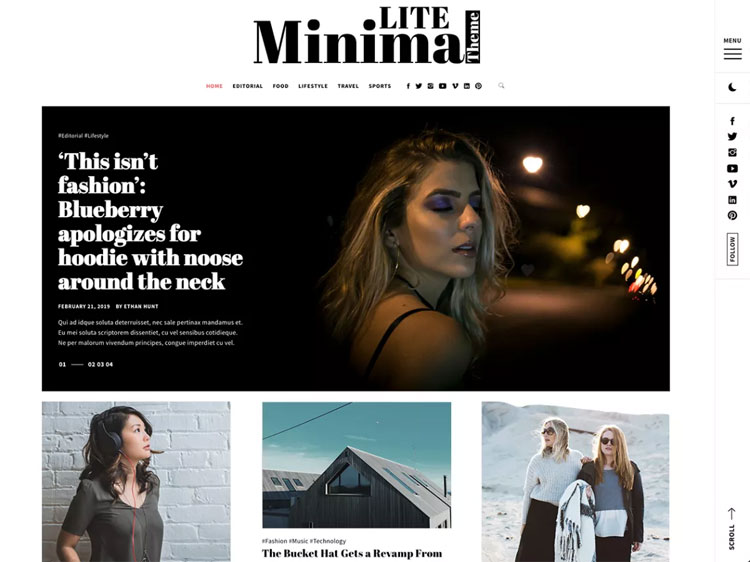 It is a best free theme of WordPress for luxurious depiction of any sort of blog whether fashion, food, travel, health and fitness, photography or even tutorial blogs. It has several interesting features like day and night mode for the feasibility of users and also the clean layout makes it mesmerizing.


Readline: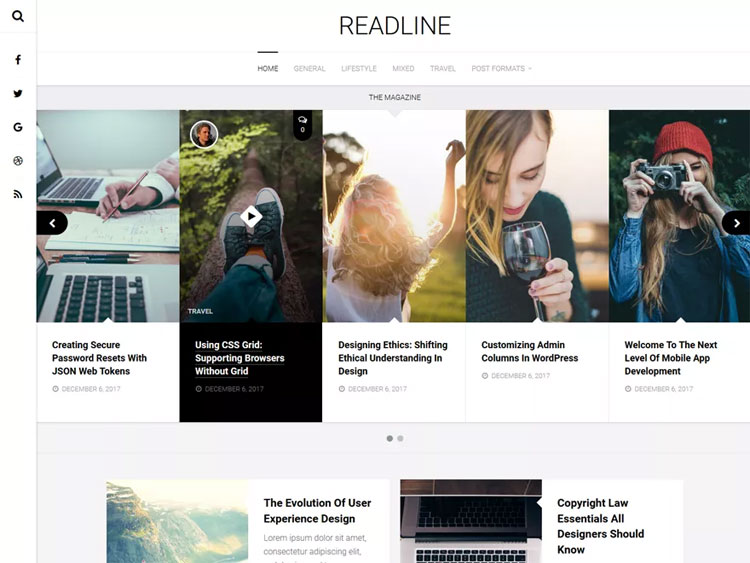 It can be used on any device whether mobile, laptop or tablet; it is full of customized options which makes it a user-friendly personal blog or magazine theme of WordPress. With no cost for it, you can use it for any blog with a range of color options and post carousels.


Phunk: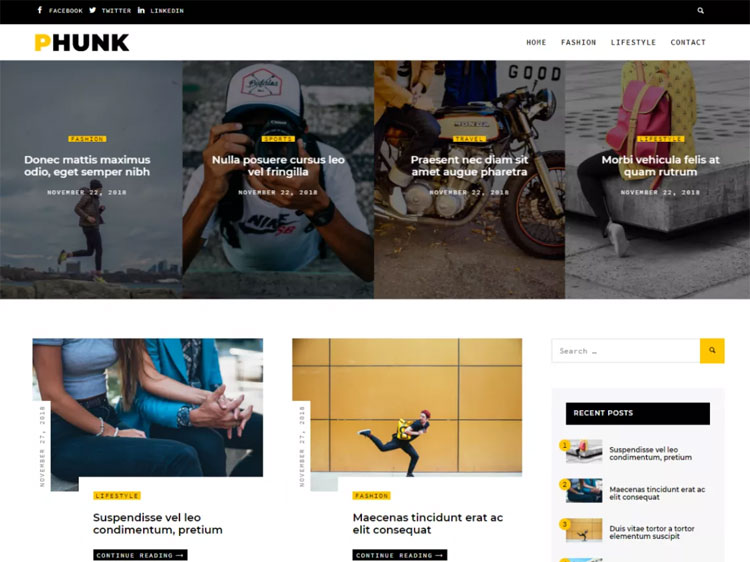 it is a free theme of WordPress which also supports Gutenberg. It has customization options which can throw any user off its shoes. With options ranging in layout style to color options; from typography to different tuning levels; it is very easy to use, and with the modern styling, it is easily readable as well.


Catch Mag: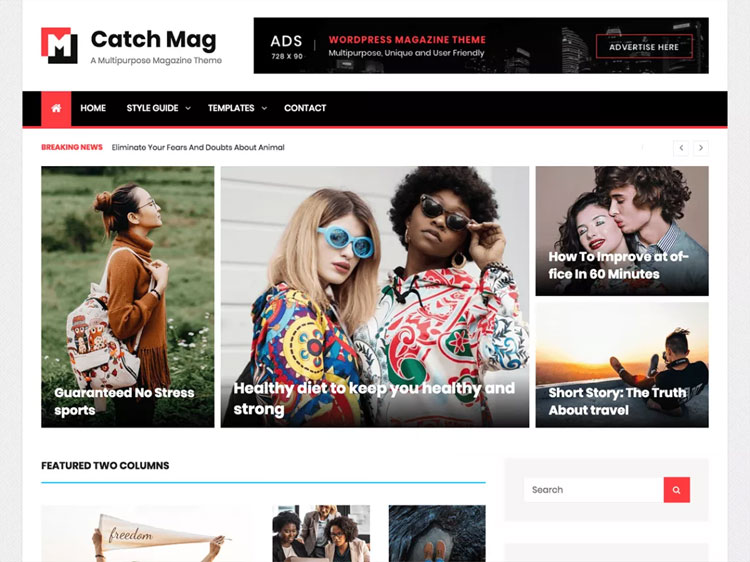 With powerful features which enables you to create something so powerful and meaningful which will show off your website in a completely different way. It is a very responsive and appeals visually as the color options and range varies. It has crucial features like two columns, portfolio, news ticker, testimonials and many other important aspects which can increase the demand of your website of the blog in a few minutes.


Blossom Recipe: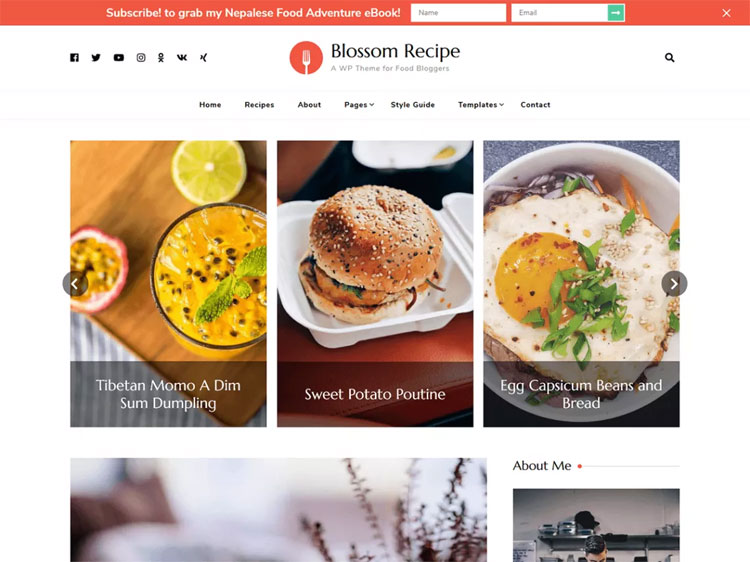 As per the name suggests, this free theme is ideal if you are looking for features rich theme as you want to have for your food and recipe blog. The color schemes are outstanding which let the post to standout visibly while the other features like speed optimization, fully functioning layout which allows plenty of space for the Google AdSense which is a bonus if you must ask. If you are looking for an attractive, user-friendly and responsive theme, then this is the one for you.


Bonus Themes
There are a few themes which are gaining success slowly as they are offering much more than what you see. Few of those free WordPress themes are as under:
Blog Started: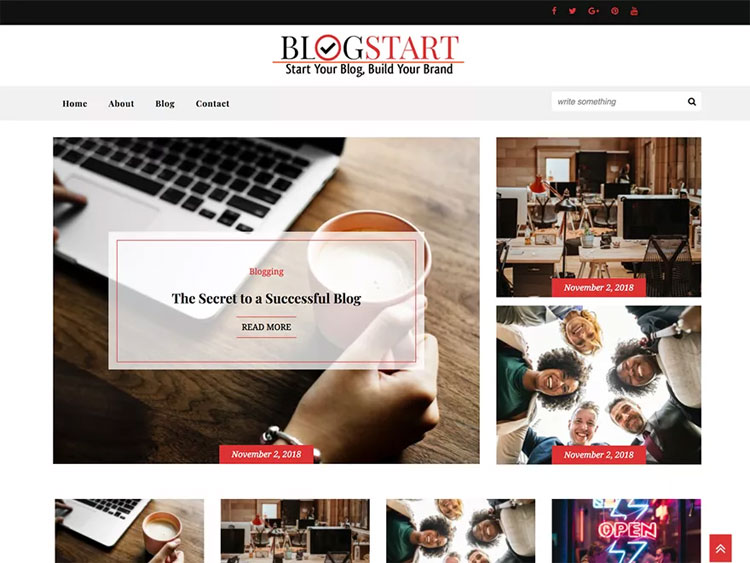 With a clean layout and the simplest way to work, blog start is a wonderful WordPress theme which is for those who want to start a new blog and already have a blog and want to take that up to the new level or challenge. With a simple layout, the and keeping the user's experiences and page load speed in mind, it is very much appreciated by bloggers, authors and content creators who use this to write about any personal, travel, fashion, health and fitness blog or website.


Almighty: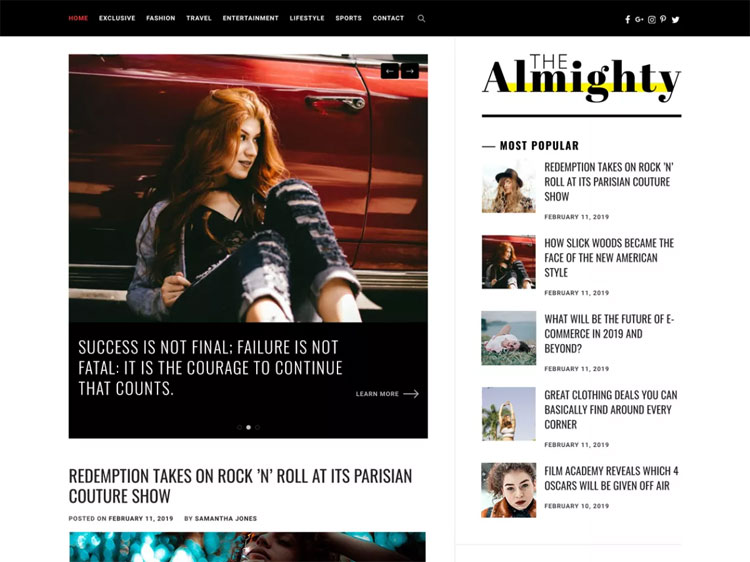 One of the simplest yet most attracting layouts is of Almighty them of free WordPress. The great thing about this theme is this that it has such amazing color options and other customizing options through which you can change the look of your blog or website. The responsive look of the page and pleasant to clean eye lines present the most engaging experience to its users.


Knight: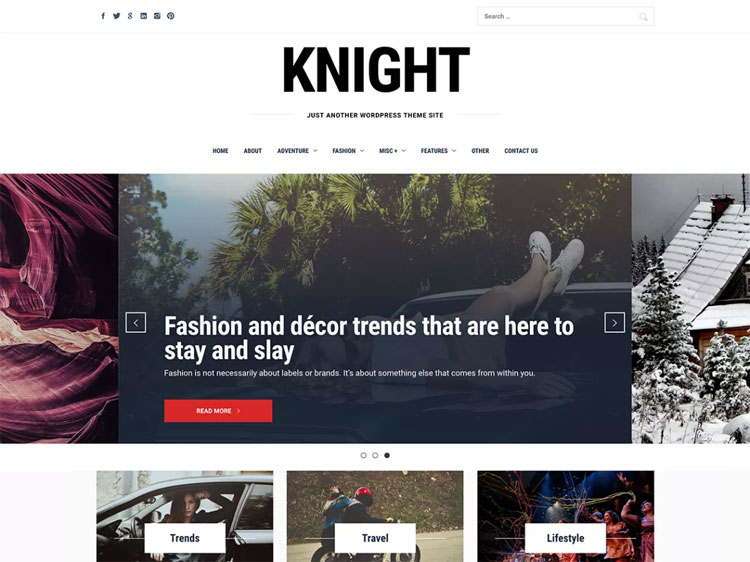 Another amazing looking blog theme of WordPress which is simple and intriguing at the same time. It can be used for the personal blog, fashion, food, travel, news or even tutorial blogs. The simple user-friendliness is attractive, and user friendliness is kept under check. The purpose is to have as much inspiration from it as possible.


Ezy: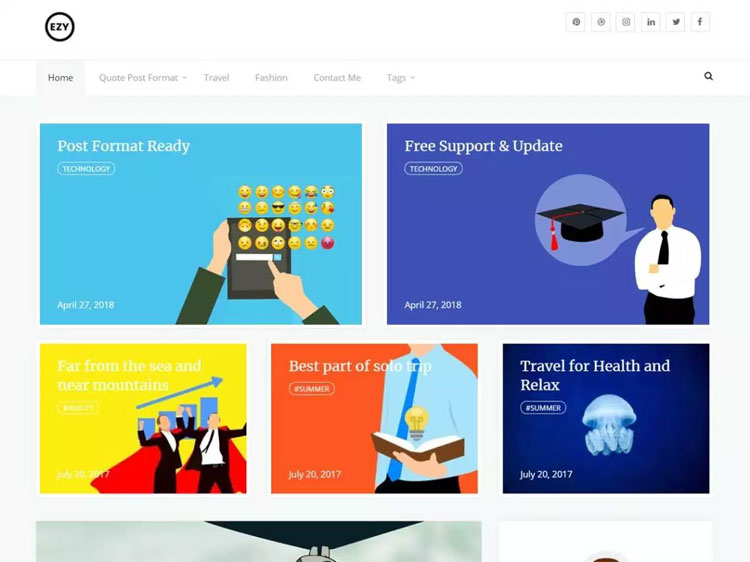 A user-friendly WordPress theme which is free and very engaging. It has several interesting options for customization which allows the user to become active, responsive, modern and creative at the same time. Also, the layout is simple which makes it easy and let's not forget the easy to use and understand features like side columns, footer options, site design options, and others.